Successes to date
Nautical Lands Group has an extensive portfolio of MIC real estate investment successes. Scroll down to see some of the communities our investors have helped us develop.
With residences and homes across Ontario, Nautical Lands Mortgage Investment Corporation offers you a reliable, RRSP & TFSA eligible investment opportunity in a growing sector of the real estate market in Canada.
Wellings of Corunna ®
Opened Spring 2017
140,000 square feet with 4 floors, 8000 sq ft atrium
Frame Construction:
Concrete slab, metal and wood framing, steel and concrete atrium
Exterior:
Brick and siding exterior
Noteables:
Full build sprinkler system & patios and balconies throughout
Address:
180 Bunker Ave., Corunna, Ontario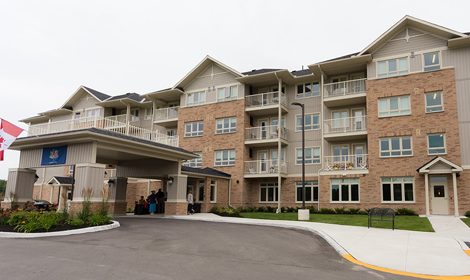 Wellings of Picton ®
Opened Fall 2016

105,000 sq ft with 4 floors , 8000 sq ft atrium.
Frame Construction:
Concrete slab, metal and wood framing, steel and concrete atrium
Exterior:
Brick and siding exterior
Noteables:
Full build sprinkler system & patios and balconies throughout
Address:
617 County Rd. 49, Picton, Ontario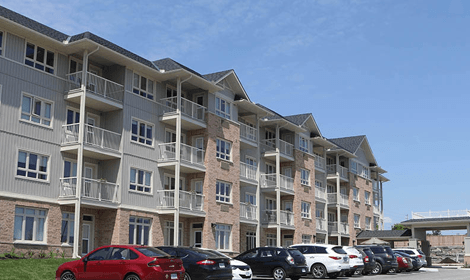 Empire Crossing Retirement Community
Opened 2015
Location:
Port Hope, Ontario
Frame Construction:
Concrete slab, wood framing
Exterior:
Brick and siding exterior
Notables:
Full build sprinkler system, patio or balcony on all suites
Address:
224 Ward St., Port Hope, Ontario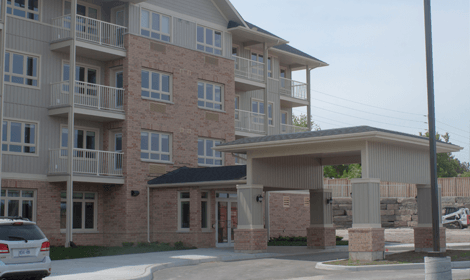 Harbour Hill Retirement Community
Opened 2014
The Link and Spa at Harbour Hill , 4026 Sq Ft., opened 2016, concrete floor, wood framing, 2 stories
Location:
Goderich, Ontario
Frame Construction:
Concrete slab, wood framing
Exterior:
Brick and siding exterior
Notables:
4 floors with full build sprinkler system, patio or balcony on all suites
Address:
104 Suncoast Dr., Goderich, Ontario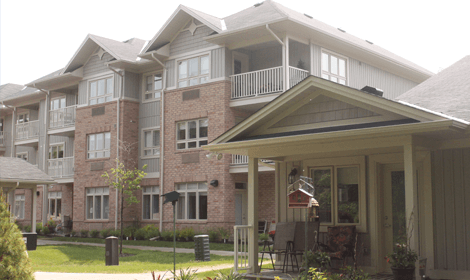 Queensview Retirement Community and Villas
Opened 2013
# Units:
Main building: 75 | Villas: 24
Frame Construction:
Main building: Concrete slab and wood framing | Villas: concrete floor, Wood framed
Exterior:
Main building: brick and siding exterior | Villas: siding exterior
Notables:
Main building: full build sprinkler system and patios and balconies on all suites | Villas: patios and sprinklers
Address:
70 King Edward St., Paris, Ontario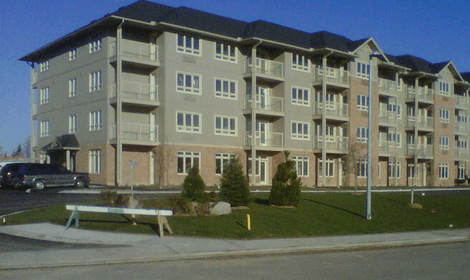 Harvest Retirement Community
Opened 2012
Two phase build
Location:
Tillsonburg, Ontario
Frame Construction:
Concrete flood, wood framing
Exterior:
Brick and siding exterior
Notables:
Full build sprinkler system, patio or balcony on all suites
Address:
15 Harvest Ave, Tillsonburg, Ontario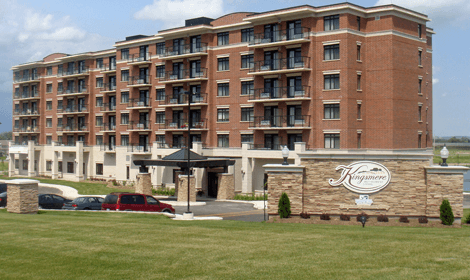 Kingsmere
Opened 2009
6 Floors
Location:
Alliston Ontario
Frame Construction:
Formed concrete, wood frame
Exterior:
Brick and stone exterior
Notables:
Full build sprinkler system & patios and balconies through out
Address:
287 King St S., Alliston Ontario
Compass Homes – Alliston Town Homes
Opened 2006
Freehold townhomes
Location:
Alliston Ontario
Frame Construction:
Wood framed with garages
Exterior:
Birck and stone exteriors
Address:
287 King St. S., Alliston Ontario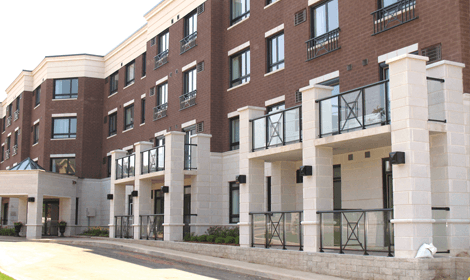 Lincoln Park
Opened 2006
4 floors
Location:
Grimsby, Ontario
Frame Construction:
Core Slab, concrete and steel
Exterior:
Brick and stone exterior
Notables:
Full build sprinkler system, patio or balcony on all apartments
Address:
265 Main St., East, Grimsby, Ontario
Island Park
Opened 2005
3 floors
Location:
Campbellford , Ontario
Frame Construction:
Concrete slab, wood frame
Notables:
Full build sprinkler system, patio or balcony on all apartments
Address:
18 Trent Dr., Campbellford , Ontario
Island View Arnprior
Opened 2002
Two phases, 5 floors
Location:
Arnprior, Ontario
Frame Construction:
Concrete, wood frame construction
Notables:
Full build sprinkler system, patio or balcony on all suites
Address:
30 Jack Crescent, Arnprior, Ontario